CentOS is the most popular distribution for Cloud Servers in 2020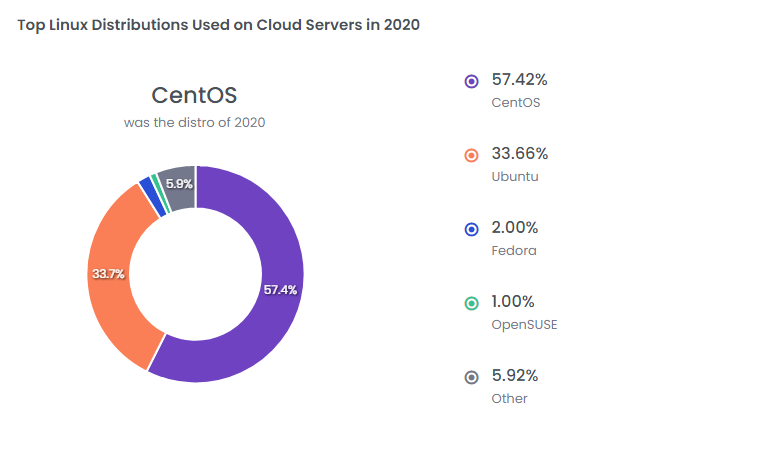 A bit of surprise but what is 2020 if not a different, CentOS is the most popular choice for Cloud Servers in the past year according to our stats.
CentOS increases from less than 10% in 2019 to the impressive 57% in 2020. It now takes the first place from the Ubuntu family as favorite for Cloud Server operating system. Despite the recent announcements regarding the future of CentOS, it's stability and prooven history has brought it to the top. Most of the users are still sticking to CentOS 7 and we see a very little amount of new servers started with CentOS 8.
The second place this year is for Ubuntu. It has been the favorite for cloud servers for many years in a row. As Ubuntu gets some drop in the ranking, it still takes 33% of the servers running in 2020. The most popular version of this distro is still the long-term support Ubuntu 18.04, but we see a good trend for movement towards Ubuntu 20.04.
Ubuntu is followed by some minor yet steady share for Fedora. Althought it delivers some very convenient server tools and features Fedora is not very popular. Fedora fans proove to be humble, but very loyal and true as we see this same share for the last three years in a row.
It is notable that this year for the first time we see OpenSUSE joining the popular cloud servers distributions showing that it is also a great choice. May be in 2021 we'll see even more of OpenSUSE.
The remaining 5.9% are spread between various distributions including some application specific distributions for network equipment and other.
As we are wrapping up 2020 we wish all the best! Have wonderful holidays and we sincerely wish you a successful, stable and great new 2021!